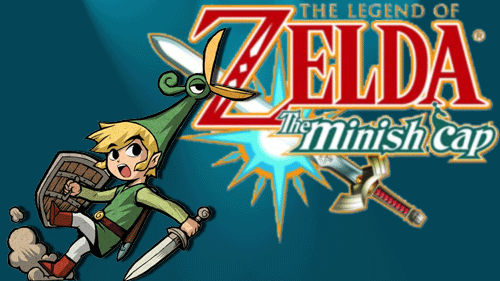 With the new gamecube zelda looking like a return to the realism of the n64 adventures long-time fans of the series will be delighted with this brand new 2D zelda game fro the GBA.
In case the name doesn't give away what awaits link, let us expand further. Searching for magical fragmented relics called kinstones, link will have to keep a close eye on what lies under his feet. Link can shrink down to microscopic size of the minish people in order to help them a miniature race in need of a hero.
Link discovers a magical hat called The Minish Cap, who are in grave danger. As he travels back and forth between their world and his, he'll solve puzzles, fight through dungeons and slowly uncover the evil behind their plight and vanquish it.
Supporting up to four players and scheduled for a release this year, it seems that our favourite adventurer is going to have a busy 2004.
Nintendo do the double, announcing not only a new cube zelda but this game aswell proving they haven't forgotten the fans that have embrased zelda on GBA. Minish cap may be strange-sounding name but the gameplay sounds like classic zelda. I can't wait to go mini and spend some quality time playing this game!
Key points:
Fuse the Kinstone pieces! The magical relics called Kinstones have been cracked into fragments and spread across the world, and by fusing them together can you solve puzzles and unlock secrets. Talk to everyone you meet, or link with friends and fuse Kinstones with them!

Small Link ... huge adventure! Link will have his work cut out for him as he fights evil in his own land then shrinks to help the Minish people, a miniature race in dire need of a hero.

Draw your sword! As you wander a vast overworld, slash your way through hordes of enemies, explore puzzling dungeons and use new items like a suction device that can fire out what it absorbs!
Characters: Link,zelda and the Minish people.
How to progress through the game: Explore the world, find new items that help you progress and fuse Kinstones with townsfolk to get hints. In the dungeons, you'll have to fight enemies and solve puzzles as you hunt each dungeon's massive boss.
Special powers/weapons/moves/features: Link has his trusty sword and shield, and the Minish Cap will help him shrink down to micro-size. He'll also find a wealth of items to aid him on his quest, including the boomerang, bow and others that have never been seen before.
Zelda III A Link To the Past/Four swords
The Legend of zelda Links awakening/DX
The of Legend Zelda Oracle Ages/Seasons
The legend of zelda Ocarina of time
The legend of Zelda Majora's Mask
The legend of Zelda The windwaker
The Legend of zelda (Gamecube)