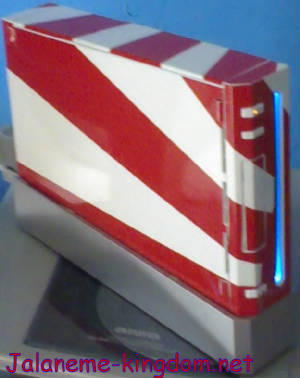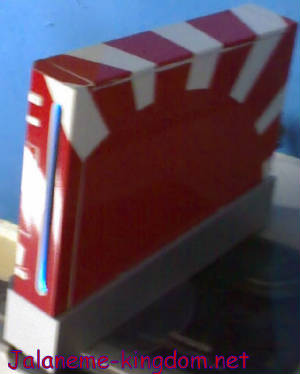 Here it is the Nintendo wii! i got this on the 02/01/2007! welcome to next-gen gaming!

The Wii Pronounced as "we" meaning everyone is a computer game console released by Nintendo. The console was previously known by its project code name of Revolution, and is the successor to the Nintendo GameCube. Although Nintendo states that its console targets a wider audience as part of the seventh generation of all Nintendo consoles it competes with the other two next gen consoles in a different way by using the innovative wiimote.

A distinguishing feature of the console is its wireless controller, the Wii Remote, which can be used as a handheld pointing device and can detect motion and rotation in three dimensions. Notable among the console's internal features is WiiConnect24, which enables it to receive messages, update the consoles firmware, and update the the channels via Internet while consuming very little electrical power.

Nintendo first mentioned the console in the 2004 E3 press conference and later unveiled the system at the 2005 E3. Satoru Iwata revealed a prototype of the controller at the September 2005 Tokyo Game Show. In the 2006 E3, it won the first of several awards. By December 8, 2006, the console completed its launch in three world regions, Europe, the USA and Australia.

On September 14, 2006 and September 15, 2006, Nintendo announced release dates for Europe (8th december), Japan (2nd december), America (November 19th), Australia (7th december), including dates, prices, and distribution.

At a June 7, 2006 policy briefing, Nintendo revealed plans to release 6 million console units and 17 million software units by March 31, 2007. This includes the 4 million or more console units they expect to ship by the end of the 2006 calendar year. On September 14, 2006, it was announced that the majority of the 2006 shipments would be allotted to the Americas (boo!)

As of late December 2006, in the UK there is still a extreme massive shortage of console units (due to eBay sellers selling the console for 3x it's value!!), and many high-street and online stores have been unable to fulfill all preorders, some gamers are waiting as long as may and June to get hold of a console!

Despite the price point of £40 quoted for many seventh generation games, Wii games cost at most £35 online and full RRP at high street retail stores.


Technical specs:

Processors:

* CPU: PowerPC based "Broadway" processor, made with a 90 nm SOI CMOS process, reportedly* clocked at 729 MHz.

* GPU: ATI "Hollywood" GPU made with a 90 nm CMOS process, reportedly* clocked at 243 MHz.

Memory:

* 88 MB main memory (24 MB "internal" 1T-SRAM integrated into graphics package, 64 MB "external" GDDR3 SDRAM)
* 3 MB GPU texture memory.

Ports and peripheral capabilities:

* Up to four Wii Remote controllers (connected wirelessly via Bluetooth) - five player capability using four Wii Remotes and one Nintendo GameCube controller
* One SD memory card slot
* Two USB 2.0 ports (unknown use atm hopefully keyboard webcam and mic support via firmware update, possible external HDD and mp3 player support!)
* One Sensor Bar port
* One accessory port on the bottom of the Wii Remote
* Four Nintendo GameCube controller ports
* Two Nintendo GameCube memory card ports
* Mitsumi DWM-W004 WiFi 802.11b/g wireless module
* Compatible with optional USB 2.0 to Ethernet LAN adaptor

Built-in content ratings systems:
* BBFC, CERO, ESRB, OFLC, OFLC (NZ), PEGI, USK

Storage:
* 512 MB built-in NAND flash memory
* Expansion available via SD card memory, 2 GB maximum supported capacity (hopefully up to 4GB can be supported with firmware update!)
* Nintendo GameCube Memory Cards (for saving GameCube games only)

IBM's Wii "Broadway" CPU
ATI's Wii "Hollywood" GPU

* Sucking hungry Slot-loading disc drive compatible with 8 cm GameCube optical disc and 12 cm Wii Optical Disc
* Mask ROM by Macronix.

Video:
* Up to 480p (PAL/NTSC) or 576i (PAL/SECAM), standard 4:3 and 16:9 anamorphic widescreen.
* Component (including Progressive scan), RGB SCART (PAL only), S-Video (NTSC only), composite output, or D-Terminal.

Audio:
* Main: Stereo - Dolby Pro Logic II-capable.
* Controller: B

Sony/Microsoft fanboys please read the specs! the wii is not a gamecube 1.5!