The rest of my Gameboy Handhelds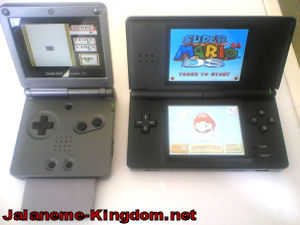 Comparing the Nintendo DS Lite to the new GBA SP Backlit
Nintendo Game Boy Advance History
In 2001, Nintendo revealed the next generation of portable entertainment into the hands of eager gamers. The Game Boy Advance gives you console-quality gaming in your pocket wherever you go, and its bright, colourful and finger-intuitive design is still a clasic.

You can play all of you Game boy games, Game boy colour games, and Game boy advance games.

The device is slightly bulkier than the Game Boy Color. The Game Boy Advance is 5.6 inches (14.2 centimeters) wide,3.2 inches (8.1 cm) tall and 1.06 inches (2.7 cm) thick. As is Nintendo's usual marketing style, the Game Boy Advance is available in several color patterns, including:

Clear black with blue buttons
Clear purple with orange buttons
Solid silver with blue buttons
Solid silver with orange buttons

The Game Boy Advance's screen is also slightly larger, at 2.9 inches (7.37 cm), compared to the Game Boy Color's 2.3-inch (5.84-cm) screen. The screen is a reflective, thin film transistor (TFT), color liquid crystal display (LCD). Nintendo has also boosted screen resolution from 160 X 140 pixels on the Game Boy Color to 240 X 160 on the Game Boy Advance. The exterior of the Game Boy Advance is not the only thing that sets it apart from its predecessors. The internal components have been ramped up to support more complex games and allow for more interactivity with other Game Boy users.

Technical Specs:

Official Name: Game Boy Advance
Screen: Reflective TFT Color LCD
Screen Size: 40.8mm x 61.2mm
Resolution: 240 x 160 dots
Display Capability: 32,000 colors
CPU: 32 bit RISC-CPU + 8 bit CISC-CPU
Memory: 32 Kbyte WRAM + 96 Kbyte VRAM (in CPU) 256 Kbyte WRAM (external of CPU)
Sound: Speaker,Headphone Terminal
Communication Function: Multi-play by up to 4 people possible with Game Boy Advance Communication Cable
Power Supply: 2 AA Alkaline Batteries or special Battery Pak
Battery Life: 2 AA Alkaline Batteries: Approx. 15 hours; Battery Pak: Approx. 10 hours
Power Consumption: Approx. 0.6W
Dimensions: 82mm(L) x 144.5(W) x 24.5mm(D)
Main Unit Weight: Approx. 140g
Game Pak: Max of 256Mbits(Game Boy Advance Only) Compatible with Game Boy/Game Boy Color and Game Boy Advance Games.

Nintendo Gameboy History
The Game Boy was developed by Gunpei Yokoi and his R&D1 team at Nintendo. He wanted to combine the best features of the successful NES with the portability of the Game & Watch handhelds, which he also developed. The first prototype of the Game Boy was produced in 1987 and expectations at Nintendo were high. Nintendo of Japan president Hiroshi Yamauchi predicted that it would sell over 25 million in the first three years.

An interesting move was the choice of game to be bundled with the Game Boy. Out of all the games it had to be Tetris: A game developed by a Russian mathematician, which has sold over 1 million copies to date. Someone at Nintendo had noticed the game at an exhibition in 1988 and immediately knew that it would be the ideal game to complement the Game Boy. The decision was spot-on!

The Game Boy was released to the Japanese public in 1989 two years later in the US. Three years after its initial release it had sold over 32 million units and continued going from strength to strength throughout the '90s. By 1997, a new and improved Game Boy called the Game Boy Pocket was released with a better quality "clear" LCD screen and a smaller size. It was much lighter than the original. As a result, more games were released for the GB and various accessories such as the camera and printer were also released.

Over 650 games have been released for the original and pocket Game Boy units to date.

Technical Specs:

CPU: 8-bit Z80 CMOS (4.19MHz)
RAM: 8KB
Colors: 4 (Grayscale)
Sprites: 40
Sprite Size: 8x16 or 8x8 pixels
Resolution: 160x144 pixels
Sound: 4 channel audio
Nintendo Gameboy Advance SP History
The Game Boy Advance SP, released in March 2003, is an upgraded version of Nintendo's Game Boy Advance. The "SP" stands for "Special" – not "Special Project" as some assume.

The SP is the fifth iteration (sixth if you count the Japan only Gameboy Light) of the most successful hardware in videogame history.

From launch, the Gameboy Advance SP was avalible in three standard colours (Platinum, Blue and Black)and one limited edition colour (Pearl) only in Japan. now the GBA SP is avalible in many more hundreds of diffrent colours.

In America during September 2005, around the time of the Game Boy Micro's release, Nintendo released an improved version of the Game Boy Advance SP featuring a backlight instead of the previous version's frontlight. The brightness can be set to low or high; at low it is brighter and more colorful than the DS. The box says, "Now with a BRIGHTER backlit screen!" to distinguish the new model from the older, frontlit models. For now, it only comes in two colors, Pearl Blue and Graphite, but that is expected to change later on down the line.

There has been no formal announcement from Nintendo about this new model. Many have speculated that such an announcement would dampen the sales of the Game Boy Micro, as the Micro's screen clarity is a major advantage over the original GBA SP model. Nintendo spokespersons have stated that the upgraded system is due for a European release, but have not revealed a date, because of this the best option for people who want the GBA SP backlit in Europe is to import it from the USA.

Technical Specs:

Size (Closed): Height 3.33 inches, width 3.23 inches, depth 0.96 inches.
CPU: 32-bit RISC CPU with embedded memory.
Screen: 2.9-inch reflective TFT color LCD.
Light Source: Front lights have been integrated with the existing reflective LCD.
Display Size: 1.61 inches by 2.41 inches (identical to the Game Boy Advance).
Resolution: 240x160 pixels (identical to the Game Boy Advance).
Color: Simultaneously displays more than 32,000 colors (identical to the Game Boy Advance).
Weight: Approximately 5 ounces.
Power Supply: Rechargeable lithium-ion battery.
Battery Life: 10 hours continuous play with three hour recharging period; 18 hours continuous play with light function disabled.


Nintendo DS History
The Nintendo DS, (abbreviated DS or NDS), is a dual-screen portable handheld game console developed and manufactured by Nintendo. It is commonly believed that the name "DS" is short for Dual Screen, but it has been speculated that DS means for Developer's System, which refers to the features of the handheld designed to encourage innovative gameplay ideas among developers. The DS when launched came in Titanium and Electric Blue, now the DS comes in a wide range of colours. Its code name was "Project Nitro". The DS has a horizontal clamshell design, similar to some Game & Watch video games, and the Game Boy Advance SP.

The DS is unique in that it has two screens (almost all game consoles use one screen), the lower of which is a touch screen. Additionally, it features a built-in microphone, and wireless connectivity with other DS users. Nintendo hopes that the new features present in the machine will provoke unique game development, attract developers, appeal to both older gamers and non-gamers alienated by normal input methods, and allow Nintendo to retain its status as leader of the handheld game console market.

Technical Specs:

Size (closed): 5.85" wide / 3.33" long / 1.13" tall
Upper Screen: Backlit, 3-inch, semitransparent reflective TFT color LCD with 256x192 pixel resolution and .24 mm dot pitch.
Touch Screen: Same as upper screen, but with transparent analog touch screen.
Color: Capable of displaying 260,000 colors.
Wireless Communication: IEEE 802.11 and Nintendo's proprietary format; wireless range is 30 to 100 feet, depending on circumstances; multiple users can play multiplayer games using just one DS game card.
Controls: Touch screen, embedded microphone for voice recognition, A/B/X/Y face buttons, plus control pad, L/R shoulder buttons, Start and Select buttons.
Input/Output: Ports for both Nintendo DS game cards and Game Boy Advance Game Paks, terminals for stereo headphones and microphone.
Other Features: Embedded PictoChat software that allows up to 16 users to chat at once; embedded real-time clock; date, time and alarm; touch-screen calibration.
CPUs: One ARM9 and one ARM7.
Sound: Stereo speakers providing virtual surround sound, depending on the software.
Battery: Lithium ion battery delivering six to 10 hours of play on a four-hour charge, depending on use; power-saving sleep mode; AC adapter.
Languages: English, Japanese, Spanish, French, German, Italian.
Nintendo DS Lite
Nintendo Europe have announced that the DS Lite handheld console will launch in the UK and Europe on June 23rd for an estimated price of £99.99 more than the current iteration of the hardware.



Although functionally identical to the original, the DS Lite is smaller and lighter than before and with a much more powerful backlit screen. The redesign also shares some of the same aesthetics as the Wii console, including an apparently identical D-pad.



Together with the announcement, Nintendo revealed additional details about the DS Lite. First and foremost, it confirmed once and for all DS Lite can play Game Boy Advance games, and its cartridge slot will be located at the same bottom rim of the handheld, as on the original DS. However, Nintendo notes that GBA cartridges will stick out by one centimeter when they're inserted into the DS Lite, due to the smaller form factor. The DS's card slot and power cord socket will be located in the same places as before the charger socket is much smaller, while the power switch and stylus holder have been relocated to the right edge of the handheld.



The DS Lite will come with four adjustable levels of screen brightness, with the maximum setting being five times as luminous as the original DS's. Battery life has also been improved. The original DS ran 6 to 10 hours on a full recharge, and the DS Lite runs for about the same number of hours on its maximum brightness. The new model can run 15 to 19 hours on its lowest brightness, 10 to 15 hours on its second level of brightness, 7 to 11 hours on its third level, and 5 to 8 hours on the maximum level. What's more, the DS Lite's battery recharges in three hours, which is an hour less than the original DS.



As previously reported, the DS Lite's body thickness has been reduced by a third (when folded), and it features a 20 percent weight reduction, from 275 grams to 218 grams. The screen size remains unaffected, and both the top and bottom panels use 3-inch LCDs. The original DS used semitransmissive LCDs for its two panels, but the DS Lite will use transmissive LCDs, which allows for higher levels of brightness.



The DS Lite will come with a new AC adapter that is not compatible with other Nintendo handhelds, including both the original DS and Game Boy Micro. There will be two styluses bundled with the DS Lite, and they'll come in the same body color as the handheld. The styluses will be one centimeter longer and one millimeter thicker than those included with the original DS. The DS Lite will also be bundled with a carrying strap (which was only included in the jap versions, the strap was not included in the Europe and and US versions) there is also a plastic dust cover that can snap into the GBA slot when empty.



DS LITE SPECS



Model code:

DS Lite: USG-001 (JPN/US/UK)

Original DS: NTR-001(JPN/US/UK)



Body Size:

DS Lite: 133.0x73.9x21.5mm (when folded)

Original DS: 148.7x84.7x28.9mm (when folded)



Weight (including battery and stylus):

DS Lite: 218g

Original DS: 275g



Stylus Size:

DS Lite: 87.55x4.99mm

Original DS: 75.0x4.0mm



Upper Display:

DS Lite:

3-inch transparent TFT color LCD with backlight featuring four adjustable levels of brightness, 192x256 pixel resolution, 0.24mm dot pitch, 260,000 colors

Original DS:

3-inch semitransparent TFT color LCD with backlight, 192x256 pixel resolution, 0.24mm dot pitch, 260,000 colors



Bottom Display:

DS Lite:

3-inch transmissive TFT color LCD with backlight featuring four adjustable levels of brightness, 192x256 pixel resolution, 0.24mm dot pitch, 260,000 colors, transparent resistive touch screen

Original DS:

3-inch semitransmissive TFT color LCD with backlight, 192x256 pixel resolution, 0.24mm dot pitch, 260,000 colors, transparent resistive touch screen



Power and Battery

Original DS:

6-10 hours

Full Battery Recharge time: four hours



DS Lite:

Lowest Luminosity: 15-19 hours

Low Luminosity: 10-15 hours

High Luminosity: 7-11 hours

Highest Luminosity: 5-8 hours

Full Battery Recharge time: 3 hours