Release Dates: USA; October 1 1992, JAP; September 10 1993, UK; January 15 1994.
Final Fantasy Mystic Quest is a computer role-playing game developed by Square Co., Ltd. for the Super Nintendo Entertainment System. It was rather different from the other games of the Final Fantasy series in that it was sold as a "beginner's role-playing game." The game is very easy compared to the other games in the series. It includes an auto mode in battles so that the game can attempt to make the best decisions for the party member other than the hero. It was subsequently released in Japan as Final Fantasy USA: Mystic Quest, and in Europe as Mystic Quest Legend.

The game features no random encounters and a pathway based location system. It is widely believed to have a rather flat story, with little character development, a significant departure for Squaresoft. The game can be beaten in a fairly short time compared to other RPGs and experience and items are fairly easy to obtain, causing many experienced gamers to categorize it as a "newbie" RPG.

A young boy is charged with a mystic quest to save Earth. He is the Knight chosen by an ancient prophecy and must travel the Earth in search of the four crystals: Earth, Water, Fire, and Air. Once these crystals are restored, power and peace may reign from earth again. The vile four have stolen the crystals from the Focus Tower and are draining their power. They have divided the world behind four doors and locked all four doors of the Focus Tower while escaping with the keys. The knight foretold of the prophecy, Benjamin, must search the world and find the missing crystals before it is too late.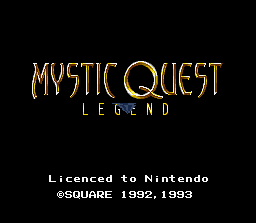 Final Fantasy Crystal Chronicles